Together We Can Be Bully Free – A mini-guide for elementary school students. Click here
Free & Low Cost Summer Activities 
Kindergarten Enrollment is now open. Please click the link below and go to the Kindergarten tab.
Registration
Walk-in registration for all students NEW to GC Schools will be on Friday, July 16th at the Greenfield-Central High School gymnasium from noon-7pm. ONLINE registration opens for all current GC students on July 19th. Once you register online you will be able to see the name of your child's homeroom teacher. (Powerschool Parent Portal) Kindergarten families who attended round up will receive a letter explaining how to register your student online. 
Please click above to view a video highlighting Greenfield Central's NBR Schools!
Your browser does not support the video tag.
Weston Elementary:
EXCEEDS EXPECTATIONS
2018-2019
"A" RATED SCHOOL
FOUR STAR SCHOOL
2017-2018
---
 NATIONAL BLUE RIBBON SCHOOL
2016
Our mission is:
To establish an intentionally inviting environment for all young learners to create a foundation of success through exploration and engagement in reading, writing, mathematics and social development.
140 Polk Street
Greenfield, IN 46140
317-462-1492
Principal: Meg Welch
Secretary: Rene Guzman
A Word from Mrs. Welch: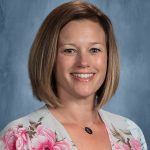 Welcome to Weston Elementary. Thank you for visiting our webpage. We hope you find the links informative and useful. Our teachers and staff are committed to providing our students with instruction and support that meets the needs of our diverse learners. Weston values relationships and we look forward to collaborating with you and having a successful school year.  Should you have any questions, please contact our front office or email the appropriate staff member. ~ Mrs. Welch ~